Only five months on and I was already tired of the old website design.  What do you think of the new look?
This week I bring you a sweet selection of antique and vintage engagement rings.  Most of them feature old European cut diamonds, but there is a little color thrown in for good measure.
BUDGET RINGS
Two lovely flowers flank a half carat bezel set diamond in this beautiful 18kt white gold engagement ring circa 1920.  Even though it is an old piece, the bezel setting makes this a good choice for a modern, active lifestyle.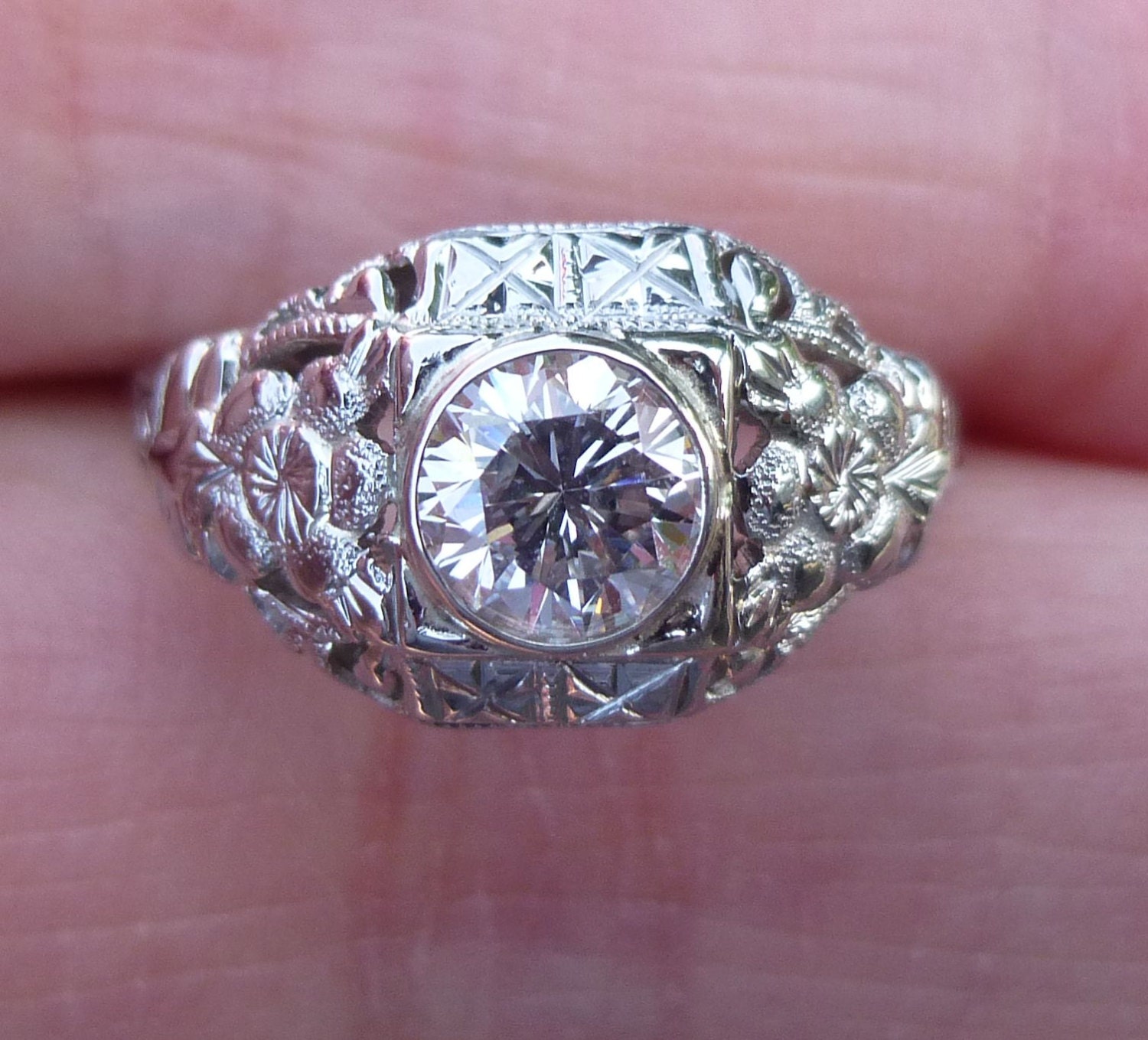 ($1,489 from Gems4borth)
Another ring circa 1920.  The subtle curve of this vintage engagement ring makes this ring decidedly feminine. Swirls of platinum surround the center .30 carat old European cut diamond and delicate engraving extends all the way down the band.

($1,995 from The Three Graces)
MID RANGE RINGS
The filigree detail on this platinum ring is quite stunning, with diamond encrusted leaves crawling up the sides.  It is set with a .75 old European cut center diamond and an additional .33 carats are set into the filigree. It's always nice to know a little of the history of an object. Obviously a special piece, this ring was custom made in New York City in 1900.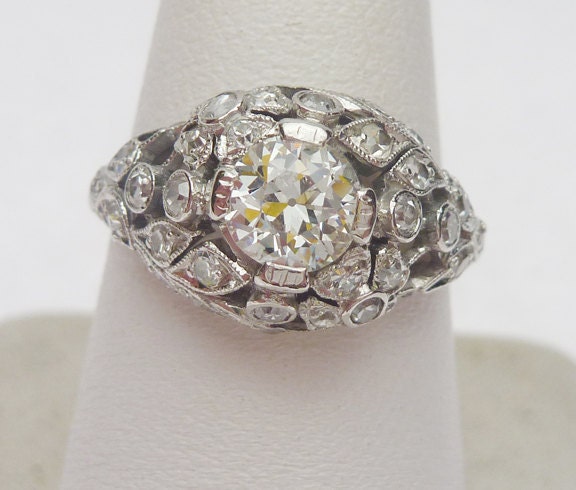 ($5,000 from Klines Jewelry)
HIGH END RINGS
I've been drooling over the Victorian and Edwardian era rings in Australian shop Sweet Heirloom Vintage for some time now.  Fans of the royal engagement ring of Princess Diana and Princess Kate would surely love this stunning 2.75 carat blue sapphire & old European cut diamond cluster ring circa 1938.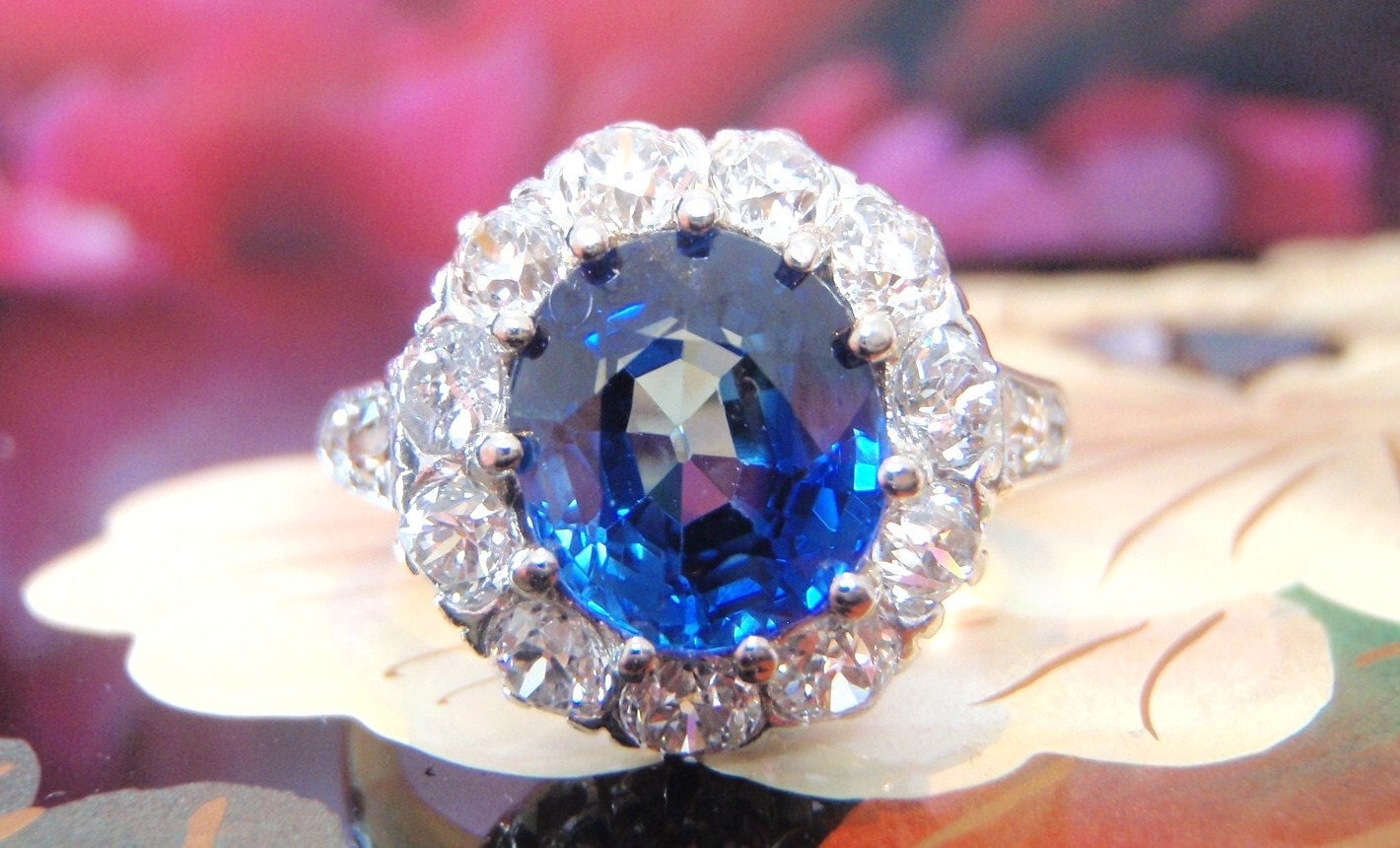 ($9,529.25 from Sweet Herloom Vintage)
If you have loads of money to spare, 1st Dibs is the place to shop for an estate engagement ring, as they maintain an amazing selection from the best antique and estate jewelry sellers in the world.  While they do have some moderately priced pieces listed, most are in the high to "you have never had to worry about money in your life" range.  In comparison to some of the rings, this Tiffany & Co. Art Deco diamond and ruby engagement ring seems a downright steal.

($28,500 from 1st Dibs)